Spring 2023 Session:
March 14th to May 5th
Click HERE to join LOVPTO to REGISTER EARLY from Feb 19 – 21.
Registration ends Friday March 3rd!
No refunds will be provided for class cancellations after the registration deadline of March 3rd.
Sessions fill up quickly!!
After School Programs meet 2:15 – 3:30pm.
Parent pick-up promptly at 3:30 (unless otherwise noted)
If you have not already done so, please fill out the below Permission Form for your student to participate in the 2022/2023 School Year After School Programs. Please note this permission form only needs to be submitted once per school year per child unless you have changes. You will be redirected to the LOV Shop to register for each program upon completing your permission form. Each child is required to a separate permission form.
---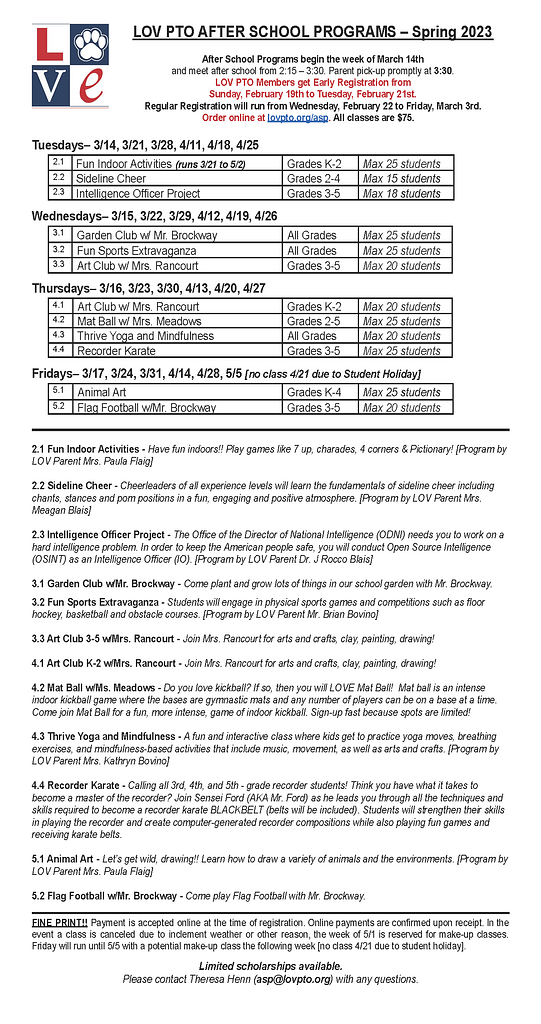 Please contact asp@lovpto.org with any program or registration questions.
Limited scholarships available – please contact asp@lovpto.org.